GLASS BOTTLE FILLER CROWNER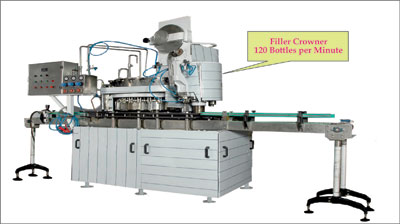 HIGH SPEED CAPACITIES, SRM 224/ 236/ 240/ 260/ 280,
GERMAN TECHNOLOGY,
SUPER FLOW VALVE WITH VACUUM PRE-EVACUATION
Shivsu SEPPA Pvt Ltd, Manufacturers of Automatic Glass Bottling Plants In Technical Collaboration with Rita Bottling brings you an advanced Glass Bottle Filler Crowner machine.
Air containing 21 % oxygen is detrimental to the stability and shelf life of beverages. The percentage of oxygen in the bottled product has to be reduced to a minimum since it is a risk for preservation of the bottled beverage. The vacuum pre-evacuation system ensures removal of oxygen during filling to give a packaged product of international standards. Ideal for bottled beverages such as Beer, Cola, Lemonade and Champagne. These Filling machines incorporate the latest in filling technology for carbonated beverages. The filling valves are designed to prevacuate the bottled before filling. This ensures very low oxygen content in the product as per international standards, and hence high stability and shelf life. The valves are suitable for filling under CO2 Counter Pressure. While using Co2 pre-stressing, one-third Air Consumption will be replaced by Co2.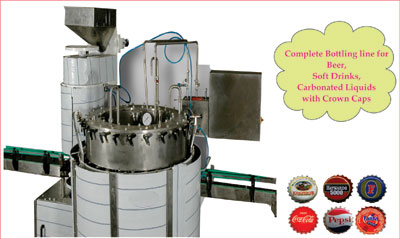 The equipment has Cleaning in Place (CIP) facility. The equipment has an automatic Central Lubrication System.
The machine has safety cut off switches, Automatic Splinter Spray- off System, Height adjustment of bowl suitable for all bottled size up to 1000ml. These filling machines are designed for accurate level filling without beverages loss.
Note :- Due to Continuous improvements, specifications are subject to change without notice.
We also manufacture Vacuum Fillers, Tunnel Pasteurizers and Coolers, Bottle Washers, Premix Carbonators, Crate Washers, Cap Conveyors and Other Bottling Equipments.