MICROBREWERY BEER FERMENTATION TANK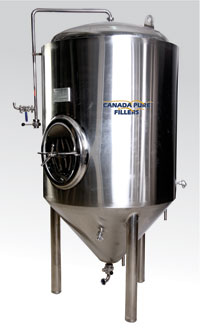 Our fermentation tanks are constructed using SS 304 or SS 316 as desired, designed as cylinder conical tanks with cone angle between 65 to 72 degrees. These tanks are equipped with dimple jacketed glycol cooling system and insulated with 50 – 60 mm poly urethane foam. Tanks are fitted with high quality solenoid valves that regulate tank temperature. The cooling surface includes the cone and cylinder area. Independent cooling for cone and cylinder areas can be optionally provided. All tanks are fitted with high quality RTD sensors for accurate temperature indications.
Tanks are pressure tested to 3.0 bar and are fitted with a safety pressure valve set at 2.5 bar. Single or dual CIP spay balls are fitted for CIP operation. Overhead cross arm extending to the side is provided with a pressure regulating device and a sanitary air trap for releasing and regulating carbon dioxide during fermentation. Standard provision include front or overhead manhole opening.
In the event the fermentation tanks is used as a uni-tanks for maturation and beer distribution, tanks can be fitted with beer python line outlet and carbonation inlets, and kegging outlets. Arrangements for applying counter pressure of Carbon Dioxide is provided in the cross arm assembly.
Tanks are also optionally equipped with sampling outlets and inspection glass with light. Tanks are available from 200 liters to 2000 liters in the microbrewery range, and larger capacities for full scale brewery.